From the shores of the La Rabia basin this incredibly rich forest extends for many hectares. In it is a great variety of replanted trees as well as the precious indigenous oak trees and beeches which are unusual for flourishing so close to the sea.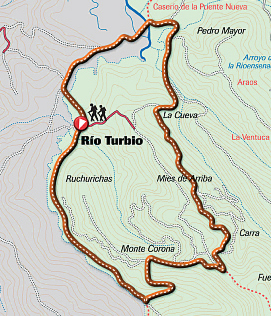 Starting Point: Rioturbio (10 metres), a beautiful hamlet situated in one of the entrances of Monte Corona. It contains several examples of traditional architecture.
Length and estimated walk time:8.3 kilometres; a little more than two hours
Ups and Downs: around 160 metres of gradients and descents.
Difficulty: slight, except for gradients.
Map reference: the National Geographic Institute, scale 1:25,000 page 33-IV.
Cycling possibility: use a mountain bike be wary with cars when you descending to the hamlet.
ROUTE
Rioturbio (10 metres): Cross through the built up area to the end of the tarmac road where the byway, which goes up the meadows and the forest, begins. The path runs by the stream Rio Turbio, and the wood gradually dominates the landscape. Eventually you will reach a junction, next to a bridge over the river.
Bridge Bichurichas (40 metres) (km 2.2) (30′): It is situated near oak trees, and it is considered the most significant point in the Monte Corona forest. As well as oak trees you will be able to see beeches, holly trees, hazels, birches, chestnuts, etc. Before the bridge turn left to go round the eucalyptus. Going through a gorge you will get to a wider area where there is a junction.
The gorge (156 metres) (km 3.6): ignore the track that goes to San Esteban on your right, and turn left to descend between eucalyptuses until it comes to an open meadow. Ignore the secondary path and you will get to a plain that is connected to a narrow road near the Puente Republicano Bridge and the marshland.
The La Rabia Lagoon (5 metres)(km 6.8)(1h. 45′): if you keep on the left between the extensive vegetation of the marshland, and especially between the Baccaris Halimifolia, the predominant and colonizing bush, you finally return to the starting point.
Rioturbio (10 metres) (km 8,3)(2h. 10′).