This route helps you discover the most distinguished spots in the municipality. Most of them are part of Oyambre's natural reserve.
Starting point: Comillas (20 metres), Starting from the square Plaza Joaquín del Piélago beside the Town Hall.
Arrival Point: Ría de la Rabia (5 metres), the bridge that crosses the lagoon towards the beach.
Length and estimated walk time:2.5 kilometres; 45 minutes.
Ups and downs: slight unevenness, moderate climb to Rubarcena followed by an easy decent to La Rabía.
Difficulty: slight. If you are thinking of cycling, you should reduce speed when passing or seeing pedestrians.
Map reference: the National Geographic Institute, scale 1:25,000 page 33-IV.
Cycling possibility: it is an ideal route for everyone as it runs on a walking path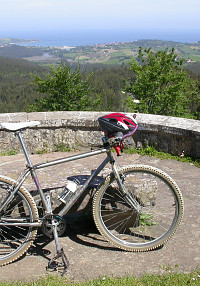 ROUTE
Town Hall (20 metres): Turn left at the crossroad and follow the sidewalk that runs near the road to Oyambre and San Vicente de la Barquera. This road called Paseo de Solatorre passes nearby the Sobrellano Palace. You will soon get to the roundabout named Dr Santiago Garcia Castellón, where the red-painted cycle path starts. Continue through this slight gradient beneath the majestic buildings of the Pontifical University. At your left there is a housing estate.
Rubárcena (40metres) (km 1): This is the highest point of this cycling path, from then on it gradually descends parallel to the main road amongst the meadows that dominate the landscape. Eventually you get to a new suburb.
La Rabia (15 metres) (km 2.2): It contains a few houses, which are all near the main road. Ignore the right hand fork signposted to Trasvía that takes you back to Comillas and do the same thing with the left hand fork that leads you to Rioturbio and Monte Corona. After a short stretch you get to the bridge that crosses the lagoon where there are usually several types of birds.
Ría de la Rabia(5 metres)(km 2.5)(45′): It is accepted as one of the most beautiful marshlands in Oyambre's natural reserve as well as one of the entrances to the park from the village. This beautiful spot consists of an estuary interrupted by the dunes that line the beach of Oyambre.