A moderate route that will help you explore the marshland in La Rabia and the municipal district of Rioturbio, one of the main entrances of the Monte Corona forest.
Starting point: Comillas (20 metres), from the square Plaza de Joaquín del Piélago that is beside the Town Hall.
Arrival Point: Rioturbio (10 metres), a splendid and outstanding hamlet situated between the la Rabia lagoon and the Monte Corona forest.
Length and estimated walk time:4.5 kilometres: an hour and ten minutes.
Ups and Downs: around 40 metres uphill and 50 downhill.
Difficulty: slight, be wary of the few cars you may find on the road that leads to Rioturbio.
Map reference: the National Geographic Institute, scale 1:25,000 page 33-IV.
Cycling possibility: You may use your mountain bike but be careful with cars on the stretch to Rioturbio.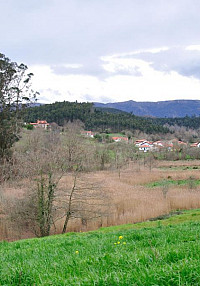 ROUTE
Town Hall (20 metres): From the village centre, head towards the La Rabia lagoon through the drive Paseo de Solatorre. You will leave behind the majestic constructions of the Sobrellano Palace and the Pontifical University. Pass the roundabout Dr Santiago García Castellón. The sidewalk emerges onto a cycling path and eventually you will get to a new suburb characterized by recently built houses.
Rubárcena (40 metres)(km 1): when you get to the shelter, turn immediately left, follow the road that leads to an unsurfaced path, away from the houses. Ignore the path to the left and carry on westwards. As the path descends it joins a tarmac road that ends in Rioturbio. If you look to your right you will see a small and beautiful shrine. Continue straight on through the curving lane and eventually you will reach the bridge that crosses the marshland, known as Puente Republicano.
The la Rabia lagoon (5 metres)(km 3)(45′): This narrow road runs between the extensive vegetation of the marshland. For some time the predominant species has been the Baccharis halimifolia, a bush from South America, which has colonised a great part of the area, displacing native flora and thereby altering the ecosystem. It is an almost flat area, so follow straight ahead, cross a bridge and you will arrive at Rioturbio.
Rioturbio (10 metres)(km 4.5)(1h. 10′): This little hamlet is part of Oyambre's natural reserve and displays a fine collection of tradititional houses. It is a small neighbourhood that leads to the outstanding woods in the Monte Corona forest.